Cleaning Services
Taskrabbit can help make your home sparkle! Same day cleaning available. Book a Tasker for one time or recurring cleaning today!
Frequently asked questions
Right now, cleaning services start at about $30 an hour, although prices vary from Tasker to Tasker.
Yes! Many Taskers can be booked for same day cleaning services. Whether it's cleaning up after a party or a one-time cleaning, Taskers will make your home sparkle and look like new.
No, you don't. But if you'd like to be on-site, you can. If you'd prefer the Tasker gets your place cleaned while you're away, just make sure they know all the details –– from how to get into the property, to your cleaning checklist, and how to lock up when they're finished.
Providing cleaning supplies is optional! Most Taskers are happy to bring their own cleaning supplies. If you prefer they don't use bleach or only use organic cleaners –– no problem. Just make sure your preferences are spelled out in the description and communicate with your Tasker.
A standard clean is more of a cleaning upkeep, the basic cleaning that needs to be done on a fairly regular basis. Deep cleaning is a more intensive cleaning that should also be done regularly but not necessarily as often as a standard cleaning. Deep cleaning usually targets difficult to reach or clean areas, such as going in and under the refrigerator or getting out all the dirt that might have been swept under the rug.
House Cleaning Service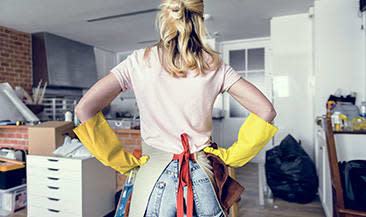 There are all sorts of things that can happen in a day. Good or bad, it's always nice to have Taskers help you stay on top of cleaning so that you always come home to a clean house. Hire a Tasker as a same day cleaner or for recurring services.
Save time and stress with cleaning services.
Is it really possible to work a full time job, have a social life, give back to your community, eat well, AND have a clean house? Yes, but only if you don't expect to take it all on yourself! Have a Tasker come take some of that pressure off your shoulders so you can have more time doing what matters to you while also being able to come home and recharge in a clean house.
No cleaning supplies? No problem.
Taskers will usually bring their own cleaning supplies, but if you have something you'd like them to use that's fine too! Feel free to communicate your expectations and preferences.
Same-day, weekly, and monthly cleaning services available.
Your schedule, your rules. You can get help cleaning whenever you need it! Find a Tasker you like and want to hire regularly? We can make that happen. Just let your Taskers know what you need and we'll connect you with someone who can help!