Handyman
Taskers can help with handyman tasks around your home.
Frequently asked questions
Handyman services start at $40 per hour, although prices vary from Tasker to Tasker. When you hire a Tasker for handyman services, you describe what you need, and TaskRabbit will show you Taskers who offer handyman services near you. You can select a Tasker by reviews, skills, and price. Once you've agreed on job details, you'll pay and leave your review right through the TaskRabbit app or website.
You should look for someone who has the skills and experience needed to complete the tasks, and it also helps to have someone local. Taskers are background checked and always local to your community, and you can see their references and ratings on their profile.
Handyman services include home repairs of all types. Popular services include hanging or repairing doors, door locks, cabinets, window repair, window screen installation, light fixture repair or replacement, air conditioner installation and removal, appliance repair such as garbage disposals, dishwashers, and refrigerators, flooring, fixing taps, faucets, drains, and toilets, patch walls and ceilings, fill holes, hang window treatments like blinds, shades, and curtains, and much more!
A handyman is a generalist and a contractor is a specialist, but there can be some overlap in the types of services they provide. Generally speaking, handyman services are less expensive and intensive, whereas contractors are usually called to take on work that could be dangerous.
Licensing requirements may vary depending on where you live, but many Taskers are licensed to perform handyman services in your area. Get in touch with a Tasker to find out if they have the right qualifications to help you!
Handyman Services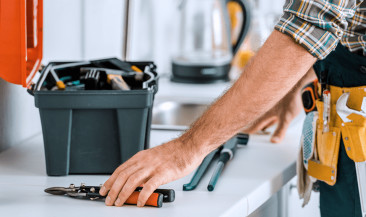 A handyman is a skilled man (or woman) who can perform various tasks around the house that don't necessarily require a license. Anything around the house that just needs a small tweak or repair is the perfect type of task for a handyman near you.
Why hire a handyman?

Everyone has different skillsets, and some of us are better off not trying to fix things around the house… and some of us just can't be bothered. Either way, Taskers are happy to help provide all sorts of handyman services to help you keep your house in good order.
A handyman is the perfect person to call for a quick fix, like a clogged drain, fixing a hole in the wall, or putting together some shelving. The nature of tasks that a handyman performs are generally not dangerous or emergency home repairs--those are things that generally require a licensed specialist.

Many Taskers have multiple licenses that enable them to perform handyman services as well as more specialized services. Llicensing requirements vary depending on where you live, but your local Taskers should be able to tell you if they are qualified to help with your project.
No tools? No problem.
Taskers will come with their own supplies needed for the job. Let your Tasker know if you'd like an estimate before starting a large project, and chat with them to ensure they have the necessary licenses for the job, if a license is needed.
Same day services available
Most Taskers live right around the corner from you, and are available for same-day services. Just let them know when you'd like them to come by and see who's available!