Mounting & Installation
From TVs to shelves to artwork to lights, Taskers will make sure it's properly mounted and hung to your satisfaction.
Frequently asked questions
Yes, properly mounting a TV to the wall is not only safe--it's often the safest way to secure your TV! By keeping the TV off the ground, you clear up more space and reduce the risk of it falling. Many TV mounts have built-in safety features and cable management systems that keep wires out of the way and out of sight.
Taskers can help you get your shelf on the wall by mounting it. They'll be able to make sure your shelf is mounted correctly and secure to wall studs or mounted with sturdy drywall anchors. Be sure to let your Tasker know how much weight you intend for your shelf to hold so that they can help you make sure you have the right materials for the job.
While mounting a TV can seem fairly straightforward, mistakes could be costly in terms of damage to your wall, your TV, or both. If you have any doubt, don't hesitate to ask a Tasker for help. Whether it's installing a TV, a curtain rod, or anything at all Taskers are always around to help!
Yes, ceiling fans typically add value to your home no matter what room they're installed in. Taskers would be happy to help you install ceiling fans or any other type of fixture in or around your home!
Mounting Services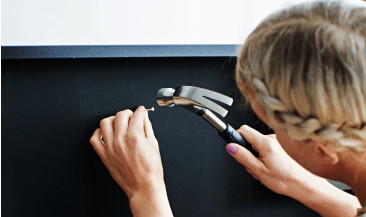 So you want to put something up on your wall, but how can you get it up there safely without doing any damage? How are you going to hang that ceiling fan without making the whole roof collapse? How will you make sure that gallery wall actually looks nice and not like a mess?
If you've ever asked yourself these questions, rest assured that you're not alone. Not only are many of your neighbors probably wondering the same things, but you also have other neighbors, Taskers, who are around and help you get things mounted and installed on your wall.
With the right tools and expertise, Taskers are able to help you mount anything from lights and pictures to flat screen TVs and ceiling fans quickly and safely.
No tools? No problem.
Providing tools is optional. Taskers usually provide their own tools to help complete the job.
TV Mounting Services.
Your Tasker will be able to help you install your TV wall mount and get your TV up on the wall. If you're not sure if your TV will be compatible with your mount, your Tasker can help.
Out with the old, in with the new.
Taskers can help you haul away your old TV and mounts, and if you need your Tasker to pick something up from that hardware store just let them know!
Same day services available.
TV arrive early? Taskers are generally available for same-day services so you can get it up on the wall whenever you're ready!