Moving Services
From the heavy lifting to unpacking and organizing make your move with TaskRabbit!
Frequently asked questions
Moving help starts at just $40/hour, although prices vary from Tasker to Tasker. When you hire a Tasker, you'll browse our marketplace of local movers and select a Tasker by reviews, skills, and price. Once you've agreed on job details, you'll pay and leave your review right through TaskRabbit. It's a transparent and secure way to hire a helping hand.
The best way to move into a walk up building is to get some help from experienced movers. Not only will they make your move easier, but they will know exactly how to get your furniture safely up and down the stairs. Taskers can help you move all of your belongings, including large furniture in or out of a walkup building.
Oftentimes movers find it best to take apart beds and other large furniture so that you can safely transport them. Taskers can help with all kinds of furniture disassembly, whether you're moving, selling, or disposing of your furniture. Just let your Tasker know what you need help with and if you need them to bring their own tools or vehicle.
Sometimes the best way to organize before moving is to hire your movers to help you organize! Taskers have experience with both packing and moving, and they can help you pack your belongings so that they will be safe in transit and fit well in the moving truck.
The first thing to do when moving is to develop a plan. Think about how you're going to organize your belongings, how you'll transport them from point A to point B, and how you'll unpack them. Taskers can help you with every step in the process, and having a second pair of eyes and hands can always help take off some of the pressure many of us feel when moving. Feel free to get in touch with a Tasker about packing services so that you can ease into the process and take away some of the stress!
Affordable Moving Services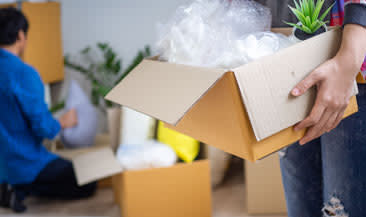 Moving is easily one of the most stressful things we all go through, but it always helps when you have moving help from someone with experience moving. Whether you have a whole home to move, a college student who's moving into a dorm, or if you just need some help getting a couch down the street, there are local Taskers happy and available to help.
Skip the rental for small moves!
Many Taskers have their own vans and trucks that they can use to help you move. Just let them know what you need to move and when you need them to come by!
Pack like a pro.
Taskers can help you prepare for your move by organizing and packing your belongings safely and efficiently.
Taskers provide walk up moving services.
It doesn't matter how many stairs you have--Taskers will be happy to help you move in or out of a walk up. Just let them know what kind of furniture you're working with and if they need to bring any special tools.
Same-day moving services available.
Life happens, if you're in a tight spot and need to move out quickly, Taskers are always around to help. Feel free to get in touch with Taskers for same-day moving services!