Yardwork
Hire a Tasker to help with yardwork & landscaping!
Frequently asked questions
Yard work services can include everything from mowing and fertilizing the lawn, to weeding and digging holes in the garden. Taskers can also provide tree trimming services as well as gutter cleaning, patio cleaning, yard cleanup, and outdoor furniture removal. The sky's the limit as to what Taskers can help you with. If it's hard to do and in your yard, don't hesitate to ask a Tasker for help!
Taskers provide yardworking services starting at around $30 per hour, but prices may vary from Tasker to Tasker depending on experience, your location, and the nature of the task.
When prioritizing yardwork, it helps to begin with the end in mind. Picture your ideal yard--what does it look like? What sort of experience do you want to enjoy every time you visit your yard? You can talk to your Taskers about what next steps you need to take to get there, and they can also help you address any urgent fixes such as drainage, weeding, infrastructure, etc.
Every season will have different yardwork tasks that need to be done, and depending on where you live you may have different needs. Spring is usually where you'll need to prepare your lawn for growth. Summer is where you'll be doing more weeding and maintenance such as cutting and watering. Fall you may need to have cleanup services such as raking leaves, cleaning gutters, and pruning bushes. Winter is usually the best time for tree trimming and protecting trees from frost.
Yardwork services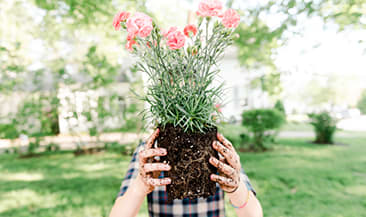 A green grass is more than just keeping up with the Joneses. Your property is your home, it's a reflection of you and how you take care of your property, a practical way to cultivate comfort, and very easy to maintain with the help of Taskers who provide yard working services!
Good for YOUR environment.
A well maintained lawn and garden is inherently good for the environment, and it's also good for your personal environment. A lush green grass helps reduce heat in your yard, making it easier for air conditioning to cool your home. A soft lawn and lush garden also slightly helps reduce noise, giving your home a more peaceful presence, and improves the air quality near your home by filtering out C02 and pollutants that travel with the wind.
Seasonal services available.
If you need regular grass cutting, weeding, yardwork maintenance or cleanup, you can schedule regular services with your Tasker. It's usually a good idea to get some help to get your yard ready for the upcoming season--don't hesitate to tap into a Tasker's experience to help you prep for winter and challenging weather!
Same-day services are also available if you need help finishing a project!
Affordable yard work prices.
Taskers are not commercial businesses--they're experienced yard workers who live in your neighborhood and want to lend a hand. Before you book a Tasker you can see their hourly rate and find a price that works for you.